When I was a teenager, the second car I owned was a 6-cylinder 1964 Impala 4 door hardtop. I eventually got rid of it and, over the years, regretted it.  I used to tell my wife, "Someday I would like to get another '64, but this time I want a convertible." So, as Paul Harvey used to say, "And Now, For The Rest Of The Story".
I bought my present '64 in the Fall of 1997 through an ad in "Old Cars Weekly" from a fellow in Long Island, New York. Not only is it a convertible, it also has a 327 cu.in V-8 engine (only one 4- barrel carb though) and a 2 speed powerglide transmission. It is also a Super Sport Impala which means it has bucket seats and a center floor console for the shifter. On the way home, I got lost and ended up getting home long after dark.
The car was originally purchased in Arizona and how it ended up in New York is a mystery to me. The previous owner was a cousin to someone who worked with several movie producers. So, whenever a film was shot in the New York area, he "rented" some of his cars for use as "background" cars in the movies. He claimed that my car was in "Carlito's Way," "A Bronx Tale," and one other (I forget which one). The very front end (side view) is also in a Mariah Carey music video. He also showed me a photo album of autographed pictures of some of the New York Yankees and the New York Rangers with the car. The car was in a parade for the Yankees and the Rangers when they won championships in 1996 and 1994 respectively. (One of my regrets is that I didn't insist on getting the album too.)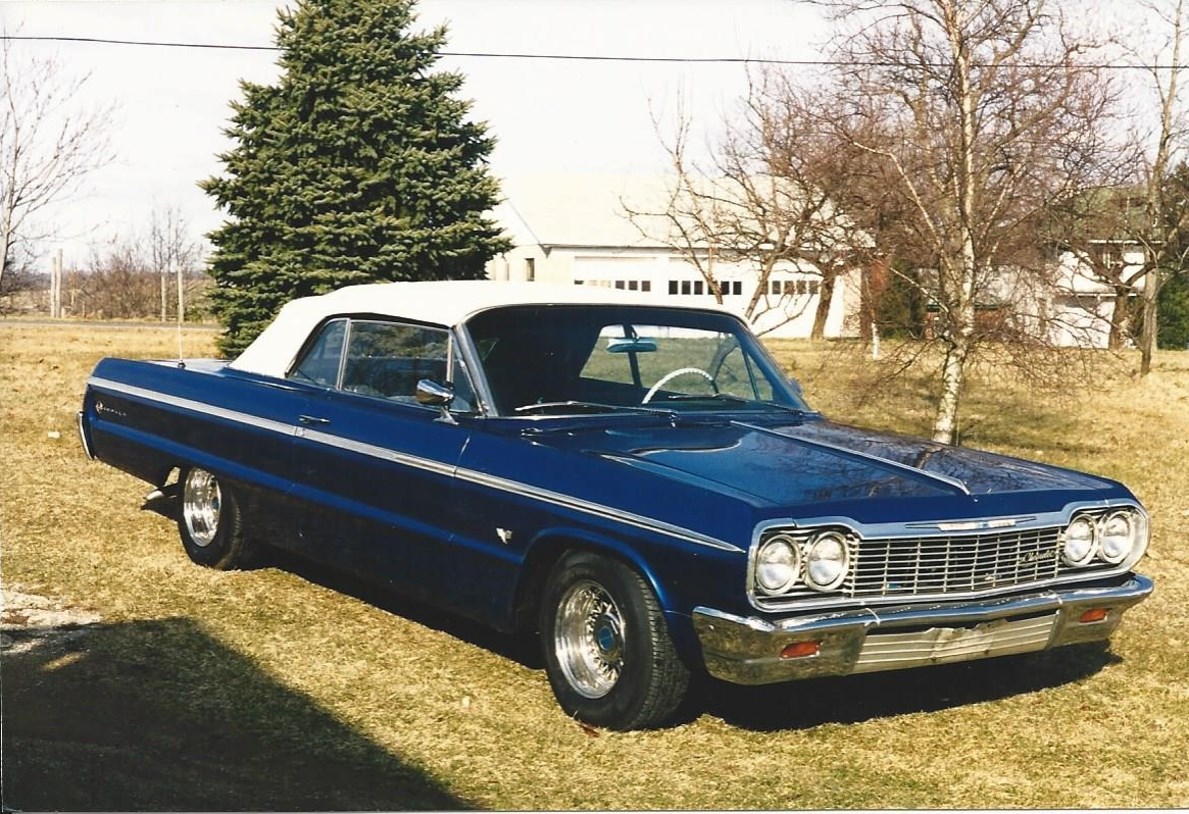 In 1999 we did our first tour with the Ontelaunee Club as a guest of Eugene Klinger. We broke down about half way through the tour. It was still fun. We ended up joining the club in 2000.
Over the next several years I had to solve several problems. First came new shocks and springs to keep from bottoming out at the slightest bump. Next, came a carburetor problem and later, an electrical problem that I chased four about 4 years. It was Ray Fisher who finally put me on the right track to solving it.
In December 2007 I decided that it needed some work so, as a start, I planned on getting it painted.  Shortly after I made this announcement to my family, I came home one day to find my car gone. My wife said she had talked to the guy who owned the body shop that I planned to use to paint the car and he took it to his shop.  As spring approached I started wondering when I was getting the car back. My wife told me he was working on it "on the side" to keep the cost down so it would take longer than usual. More time elapsed and I got the "itch" for cruising with the top down—especially as the weather warmed up. I kept getting excuses and, one day, I got out of work early and decided to stop at the shop and see what the holdup was
When I inquired, I was told it was in the corner of the shop. Imagine my surprise when I looked over and couldn't find it. I asked again and the employee (owner wasn't there at the time) said once again, that it was in the corner. A second look confirmed that it indeed was my car— except it was a rolling chassis— frame, engine and wheels only!!! I could not believe it!!! My first thought was that a horrible mistake was made and the owner misunderstood what I wanted done.  They then took me to another building and showed me the body on a rotisserie set up!  When I got home and told my wife, she confessed. She ordered (and paid for) a frame-off restoration!! What a surprise!!!
The paint is called Electric Blue. This is not a "Chevy" color but is actually a variant of Cyan Blue and was originally developed for Hot Rods. The True Spoke mag wheels on it were on the car when I bought it. Once the outside was done, my wife actually designed the interior seat and door patterns and had it done in colors matching the blue paint and white top. Not only was the dash given matching blue paint, the two tone steering wheel was also done in matching blue and white.
As many of you know, I love driving it with the top down and, over the years, we have had many memorable rides with it— especially on club tours.