The reason I looked for an antique car was for our car tours not for car shows. Also, the fact is that I love old cars. Believe it or not I found my car advertised in church. I also knew the guy who had it for sale. I went to see her and of course fell in love with her immediately. She was a pretty yellow with a black vinyl roof. As you can tell she's a girl and her name is "Buttercup." It seems I give my cars names…I don't know why.
First thing I did after I bought her was take her to my mechanic because I knew she needed a new battery. What was in the car was a side mount battery and hard to charge so I had it replaced with an upright battery. That the new battery was not "original" didn't matter because I wouldn't take it to car shows to be judged. Turns out I needed a new starter, shocks and hoses.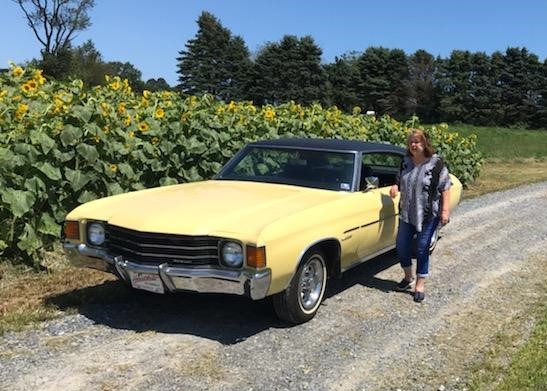 I have the original 307 cubic inch V-8 engine in it. It's working just fine so far. I'd love to say I have one of the rarest Chevelles found, the elegant 454 LS6, but I don't. I have to say I love my Chevelle just the way she is.
I've enjoyed the tours that I had her on. She runs like a dream. I do drive her around my local area just to make sure she doesn't sit for too long.  Sorry I haven't owned my car long enough to have a lot of stories about her. I'm a new antique car owner.