I call her "Lolita" and my family calls her "the Blue Beast;" she is a 1937 DeSoto Business Coupe, a garage-kept senior citizen. As with other residents in senior-care facilities, she is cared for as needed: Lolita has a charger to keep her battery in tip-top condition. I first saw Lolita when she was owned by Bruce Stevens. He had her painted blue following repair of the trunk into which a tree had fallen. She had been metallic green when the first two owners cared for her. As to the snap buttons on the doors, she was used as a delivery car for a pharmacy in Bethlehem, Pennsylvania, and the pharmacy signs were attached to the buttons. I persuaded Bruce to give her up for adoption in 1991 following my mother's passing and receipt of a small inheritance.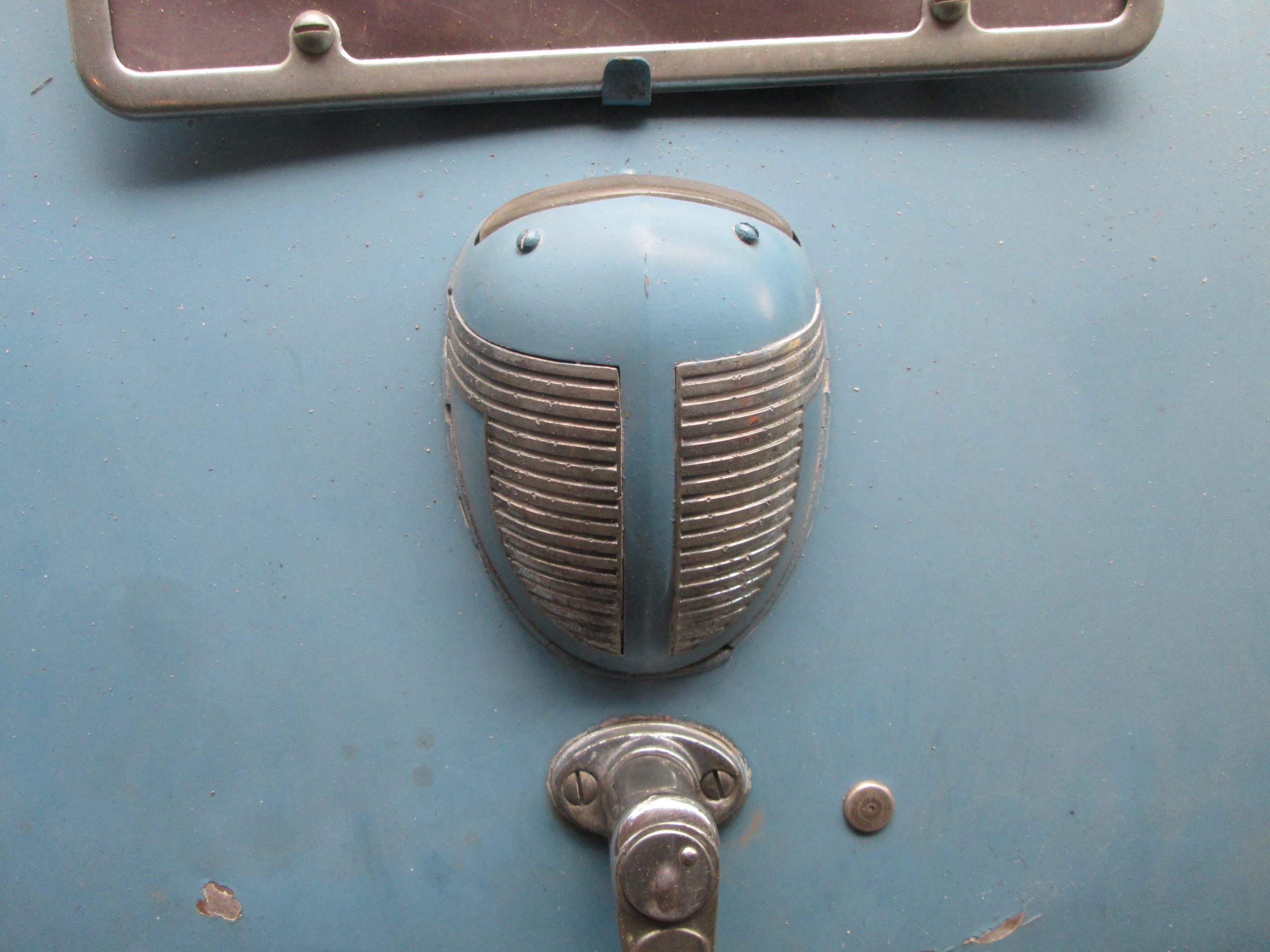 As to her finish, this one-of-a-kind paint scheme is called "patina," which I believe is French, Polish, Italian, or Swahili for "Dirty Car." The patina has been nurtured over many years of having never being washed and it can never be replicated. In fact, two years ago, "Jack S ## t Sparrow," on the fly I might add, deposited a very critical pin-striping feature to this award-winning paint scheme.  She is survivor.  She has been awarded and badged as HPOF with the AACA.  This award is a very high honor. No, she will never be intentionally washed although rain may occasionally fall!
This Blue Beast has power: her L-head inline 6-cylinder engine has 93 horsepower and 168 pound-feet of torque fired by an "Autolite" ignition and delivered through 4 main bearings and solid valve lifters. The manual transmission has full synchromesh and she stops with four-wheel hydraulic brakes. Her all-steel body has 14 rubber mounts and rides on an independent front suspension and hypoid rear axle.
Lolita is highly optioned. She has bumper guards, fender skirts, "Transitone" AM radio that still works, heater, cigar lighter, radio antenna located under driver's side running board, "Gas-Saver" overdrive transmission and vent wings windows. The mechanical overdrive transforms Lolita from a 3-speed to a 4-speed forward drivetrain.
I have lovingly maintained Lolita. She has had several life-saving surgeries as well as transplants including (1) a new brake system consisting of brake lines, wheel cylinders and master cylinder; and (2) a new fuel system with fuel lines, electric fuel pump at the tank to stop vapor lock and new poly fuel tank.  Lolita and I have a maintenance agreement: if I continue to maintain her, she will keep running for me.
Lolita's design integrates style features in the grille, with the hood ornament, bullet headlights, stop lights and license plate light, as you can see from the attached pictures. She has received many unsolicited comments and cat calls as to her stunning beauty from far-off admirers.