I was the baby of the Rauch family. In fact, my brother, Nevin was 16 years older. Our family lived in Stony Run when he was born and we lived in Krumsville when I was born.  This story is about Nevin Rauch and two of his cars, a 1948 Hudson and a 1964 Buick. Both were dark red convertibles. I now own the Buick, an Electra 225.
Although we grew up in Berks County, we spent a lot of time in Allentown.  Our father had an open huckster truck from which he sold eggs and potatoes to people in Allentown. My brothers, Nevin and Herbert, took over the sales route and grew it with two trucks under the name, "Rocky's Fancy Fruits and Vegetables." "Rocky" developed from our family name, Rauch. They expanded the inventory to include fish, candy, sticky buns, canned goods and corn. Summers, I worked for my brothers who drove the trucks throughout Allentown, each with a different daily route. My principal responsibility was to sell corn for which they paid me the handsome sum of $50 for the whole summer. If I asked for more money, they told me I already ate too much of the inventory.
Brother Nevin always liked red convertibles. He attended Kutztown High School and worked in the silk mill on Highland Avenue to save money for cars. Attached is a picture of his Hudson six-cylinder convertible. I do not know if it was a 1948 or 1949 model but it does not matter because they were the same. Each had a new "Step-Down" unitized body which referred to the floorpan surrounded by frame girders instead of a body shell sitting on top of the chassis. Each had a 124-inch wheelbase. I do not know if it was a Super or a Commodore but it does not matter because they were distinguished chiefly by a few extra interior appointments in the Commodore.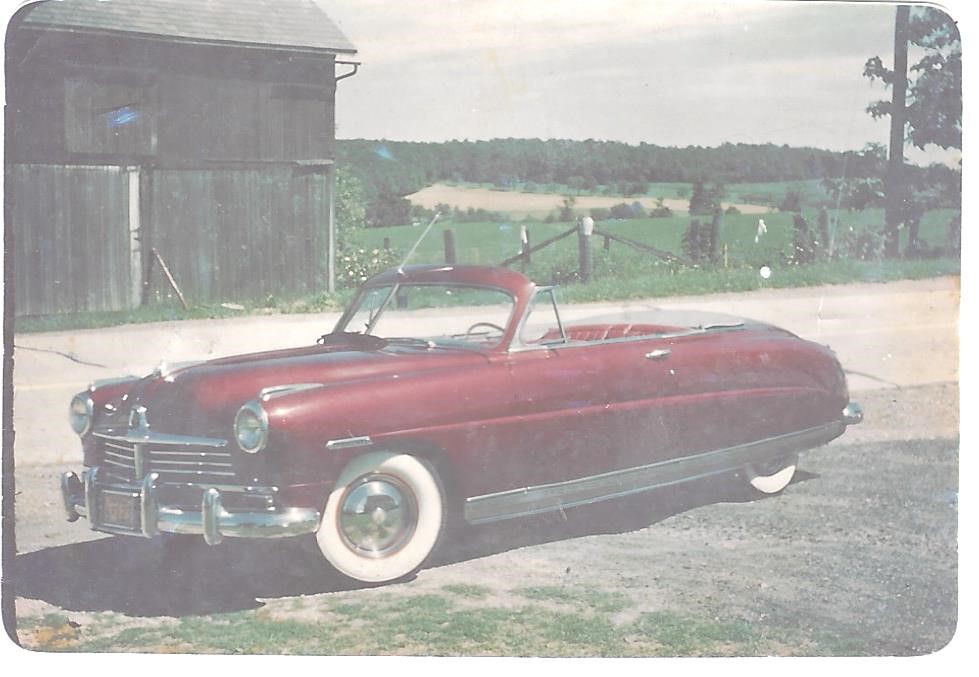 What matters is that this Hudson was a "hot" car. The smooth, clean sides tapered to small taillights in an aerodynamic design. The low center of gravity looked fast and helped the car hug the road. The six-cylinder engine had 8 more cubic inches in displacement than the 8-cylinder engine but weighed much less. Acceleration in 1948 was 0 to 40 mph in 12 seconds with an automatic transmission and quicker with a manual transmission. The engine became the 308 cubic inch power plant used by stock car champions from 1952 to 1954.
Nevin transitioned from truck route sales to the restaurant and motel business. In 1959-1960, he built the Skyview Restaurant located on the northeast corner of I-78 and Route 737 and the Top Motel, located on the southwest corner. He drove Buicks because Hudsons were no longer available. He moved from Maxatawny Township to Stafford, Virginia and drove a 1964 Buick Electra 225 convertible. One day he drove the dark red Buick to our yard in Kuhnsville and left it there for me.
In 1959, Buick renamed its Roadmaster the Electra 225, signifying a 225-inch wheelbase. By 1964, the 225 came with either a 401 cubic inch V-8 with 325 bhp or a 425 cubic inch V-8 with 340-360 bhp. In 1964, Buick made 7,181 Electra 225 convertible coupes at a base price of $4,374. We did not modify or restore the Electra 225, and have enjoyed showing it at Hershey in the HPOF class (historic preservation of original features). In our trips to Hershey, Carl would trailer the 1950 Studebaker or drive the 1951 Studebaker, I would drive the 1960 Lark and our children would drive the Buick.
The Buick accompanied us on many tours with the Ontelaunee Club. Carl and I would join forces with Forrest and Bertha Hoffman to host many tours. They drove Edsel convertibles. Forrest has passed but Bertha resides in Oley. I enjoy speaking with her regularly. The Buick brought us together. Thanks to Nevin for this wonderful Buick!